The First Series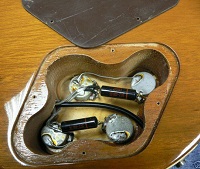 &nbsp &nbsp &nbsp The first true Les Pauls made since 1961 have a few specific features that differentiate them from the vast majority of the next category of late 60s LP's. These issues are most prominently displayed in Standard models. These instruments are EXTREMELY rare and typically sell for top dollar. For information on the earliest Customs, please click on "The Early Reissues" link. Custom's features are identical other than the potential strap button issue below (which I have yet to see on a Custom). The earliest Custom on record so far is an 899xxx that has all early reissue features except for its serial number. The serial may be repeated on a later 69 example. I believe the earliest Standard I have seen is a 975xxx. It is important to note though, that ~98% of this category come in the 5xx,xxx range of serials and NOT the 8xx,xxx / 9xx,xxx range.
&nbsp &nbsp &nbsp CONFIRMED: Let's look at a few confirmed shipping dates for "First Series" guitars. A 985xxx LP Std (pre-dating the 5xx,xxx series) shipped July 17th 1968. A 501xxx LP Standard shipped 8-15-1968. However, I also have confirmation of a 501xxx LP Standard which shipped 9-27-1968. In every series of these reissues, there tends to be a slight spread of few weeks for any given sequence of serials. It's a good thing to keep in mind.
&nbsp &nbsp &nbsp UPDATE: I have seen a 514xxx LP Standard with a Crown Headstock overlay! Hmm... may have to rethink my divisions here. :)
Features:
THE CROWN INLAY:
&nbsp &nbsp &nbsp The very first Les Paul Standards of 1968 have a crown inlay (like a 335) on their headstock where the infamous 'Les Paul Model' silkscreen typically resides. My research has so far indicated this feature to be present on Goldtops 501xxx to 505xxx. Remember, this is what my research indicates SO FAR. Seeing as how these instruments are so rare, it is difficult to acrew much data on them. I have a confirmed 514xxx crown guitar, but it is probably an outlier which was built earlier than its serial reflects.
THE TRUSS ROD COVER (GT):
&nbsp &nbsp &nbsp The very first Les Paul Standards of 1968 have a truss rod cover engraved with the words "Les Paul" as shown above. Again only on GT's, some claim that a blank one is also correct.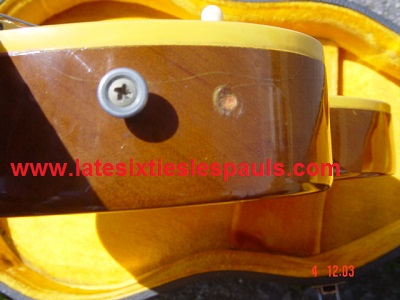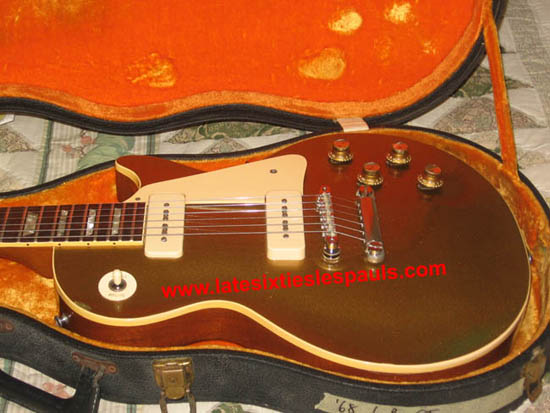 Strap Oddities: "High" Strap Button & SG Style
&nbsp &nbsp &nbsp "High" has a double entendre in this case. A few super early LP Standards (possibly on Customs as well, although I have not seen one) have a misplaced, high strap button as seen in this image. The other meaning of "high", in this case, is probably what the person was when they thought doing so was a good idea. :) It is VERY easy for these to slip out of a strap. In total, I have probably only seen a total of 10 or so of these over the years of keeping a look out. Just speculation, the misplacement of this button could just be a sign of teething problems as Gibson resumed single cutaway LP production. Funny side note, almost every one of these guitars except the ones pictured here has its button relocated in the interim by a player or luthier. Unfortunately I did not save this image, but I recall seeing one or two of these that had been corrected AT THE FACTORY. The higher, misplaced hole was doweled and factory clear put over it. For those wondering, the tight grouping of super early serials on these guitars is why I believe this to be a factory goof and not a later mod. You just do NOT see it done later than maybe 510xxx or so. Also, look below for the "Hidden Flame", stripped GT below. It also has the high button and is a very early, "First Series" LSLP.
&nbsp &nbsp &nbsp I have also seen even fewer guitars with factory SG style (back of the neck joint) positioned strap buttons. I believe one had what appeared to be a factory repair, and the other still had its button there with NO OTHER HOLES where it SHOULD be. Crazy, eh?