Serial Number Info:
&nbsp &nbsp &nbsp The serial numbers of LSLPs have been a source for confusion and ire for decades. With some of the numbers being reused multiple times in other years of production, it is not a surprise that many have thrown their hands up in frustration and given up trying to make sense of them. There are two sections to this page: First, I have compiled information from hundreds of guitars to create a timeline/graph of 1968 and 1969. This should answer the vast majority of your questions regarding when your guitar was produced. This information is reliable as it is keyed to quite a few shipping dates confirmed by the actual shipping ledger. Secondly, primarily for first time users and those needing a "quick and dirty" answer to what there guitar's serial number represents, I have created a "30 Second Guide" to identifying your guitar. The guide will even link you to the specific portions of this site that relate to your guitar.
&nbsp &nbsp &nbsp Please note: This is not a COMPREHENSIVE serial number guide as I have left out some of the obscure variations of LSLP's for clarity's sake. 99% of LSLP's are covered here though. Shown in the navigation of this page, the sections of this site that are specific to each period of LSLP will cover the obscure examples excluded from this guide in detail.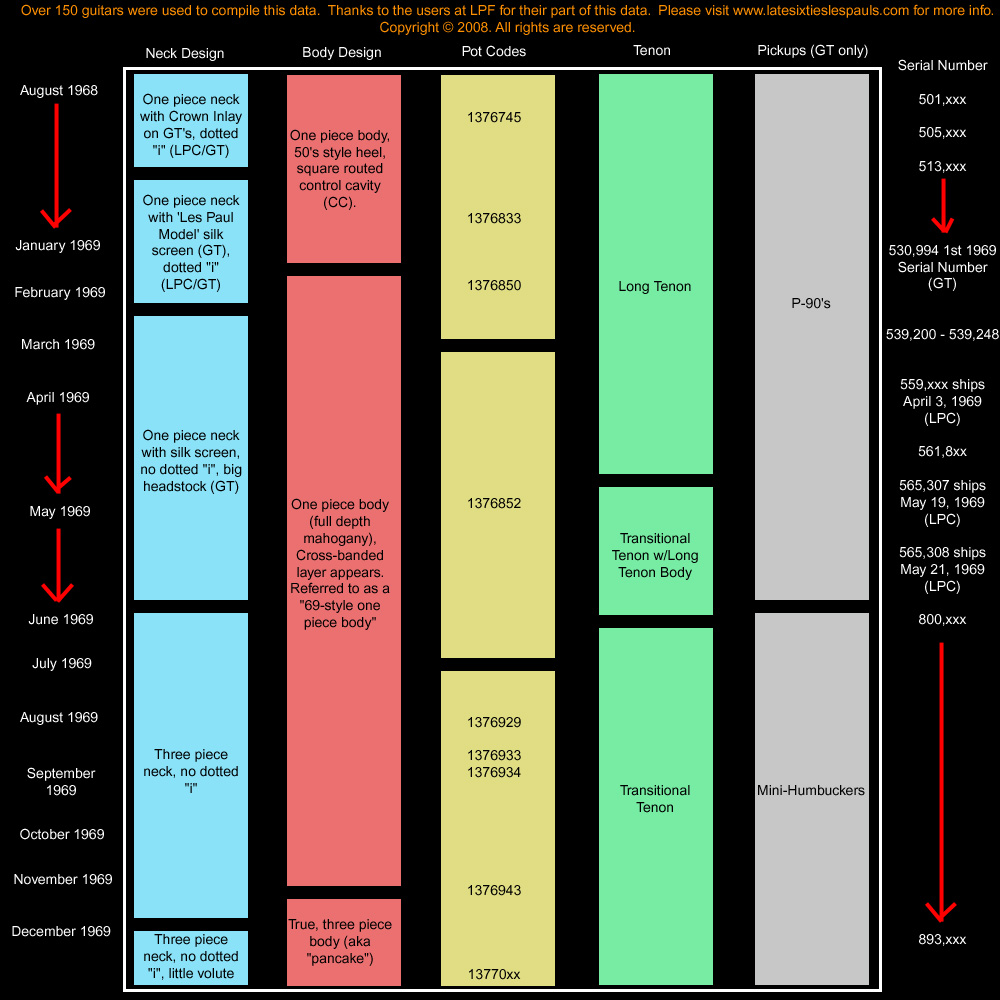 Identify Your Guitar In 30 Seconds or Less.... Probably:
&nbsp &nbsp &nbsp This section is intended to be a quick and dirty guide to ID'ing whether a guitar is a Late Sixties Les Paul (LSLP) using its serial number. If it is an LSLP, within thirty seconds you will know what era it came from and a general shipping date. You will also be linked directly to the dedicated section of this site that corresponds to your guitar.
&nbsp &nbsp &nbsp IMPORTANT: This section is not intended to be a definitive guide for identifying your guitar. For speed's sake, I have ignored a few variations of serial numbers for this guide only. These variations comprise about 2% or less of all LSLP's produced and are documented on this site. In other words, for 98% of you, this "30 Second Guide" will get you where you need to go.
&nbsp &nbsp &nbsp INSTRUCTIONS: Simply start at the top and follow the arrows down unitl you find a match. As Gibson repeated LSLP serial numbers in the 1970's, it is important to pay attention to the first box.

Is your guitar from the 1960's or the 1970's?
&nbsp &nbsp &nbsp Gibson reused serial numbers from the LSLP period in about 1975 or so. Look at your headstock logo. Note the "b" and "o" in 'Gibson'. Now, look at the images below. Are they open like the left image? If so, you may have an LSLP, continue to the next boxes. Are they closed like the image on the right? Sorry, unless your guitar is a heavily modified or repaired LSLP, it is not from the sixties. Thanks for visiting the site anyway!
IMPORTANT :
NO LSLP SHIPPED WITH "MADE IN THE USA" STAMPED BELOW THE SERIAL NUMBER.



Which serial number range does your guitar fall into?