Acknowledgements:
&nbsp &nbsp &nbsp Many people have contributed time, knowledge, server space, and/or patience as I have developed this site. I would like to thank JT in particular for hosting it on his server for so many years. I may have "taken the ball and run with it", but when I started, a user named 'Wilko' at LPF was instrumental in helping me.
&nbsp &nbsp &nbsp Since I began this site back in 2006, I have been fortunate to receive hundreds of emails from all over the world. I have heard from: Japan, USA, Canada, France, Italy, Germany, the Netherlands, Australia, Austria, Poland, Malaysia, Switzerland, Norway, Denmark, and more. I am very grateful to all of you for reaching out to me with your stories of how the site has helped you make smart purchases and to find quality guitars.
&nbsp &nbsp &nbsp Finally, without "Uncle Johnny" connecting me with my LSLP, this site would certainly not exist. For more on this story, make sure to visit my Featured Article entitled "The Story of 559xxx "CLICK HERE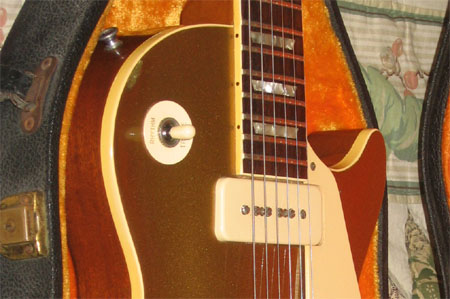 To all my friends and family.
To the users of the LPF, a huge pile of thanks. If you are a Les Paul fan and are here reading this site, you owe it to yourself to give THIS SITE (LINK) a try.
To a certain company based in Tennessee and Montana, thanks for the Historic line, but please fix the color of your P-90 covers on your GT's. EDIT (several years later): Now that you have fixed the color, for the love of God sell them to me! No one at Gibson will. :( EDIT (even more years later): Yes! Finally scored a set of them for my '54 RI. Thank you Gibson Custom!!! :)
To Jeff Hanneman (EDIT: This was a joke back in 2006, and now he died from a spider bite!?!?!) and Kerry King.
To Chris "Red Baron", representing LSLP's down under. :) To Steve "Mapleflame", so much fun rockin' in the "jammers".
To Leo Fender, thank you for your amps!
To Frank Latino, thank you for the guitar lessons!
To Common Stock.
Progrocker111, for his "Norlin Knowledge Superpower".
For Contributions to Spelling, Above and Beyond the Call of Duty:
Prof. Kevin B., Ph.D., HSPP - Indiana State University
Pictures:
To everyone who has emailed me with pictures of their guitars and have been gracious enough to say "use them however you want!", I wanted to say thank you so much. If any pictures are on the site by mistake, please let me know that you don't want them online. I will be happy to take them down.
Credits:
Gruhn's Guide to Vintage Guitars : An Identification Guide for American Fretted Instruments (2nd Ed) by George Gruhn, Walter Carter (Paperback - May 1999). (An excellent book, but can you believe they only have one sentence for 1969 Customs! It took me an entire website. :) )
Gibson Gazette, Vol. 8, No. 2, circa. 1968.
'The Return of the Les Paul', brochure, June of 1968.
To Les:
RIP, and thank you.