Current Reissues of Late 60's Les Pauls
&nbsp &nbsp &nbsp There is a renewed and increased interest in this era of guitars. Original examples are increasingly scarce and expensive. This has led Gibson to make some initial experiments into recreating them for the modern masses. These guitars fit into three categories: Standard, Deluxe (Mini-humbuckered GT's) and Custom. In 2013 or so, Gibson finally announced a '68 Les Paul Standard Custom Shop reissue with the Tom Scholz Collector's Choice model. I think it would be great fun if they popped a crown headstock overlay from a current ES-335 on a Scholz to make a super early, 68 crown guitar reissue. New for 2015, Edwin Wilson has announced a proper, Historic/Custom Shop level reissue of the 1968 Les Paul Custom! Killer!
&nbsp &nbsp &nbsp Previously, none of the currently "reissued" LSLP's were truly accurate. Does that matter? Probably not, it's really up to you. The current 'Les Paul Deluxe' is standard, USA production. The 'Les Paul Customs' are made in the Custom Shop. The Scholz model is really great, but very expensive as a limited-production, Custom Shop model. The new Historic LPC for 2015 should be much more affordable than the Scholz model.
&nbsp &nbsp &nbsp PLEASE NOTE: This area will never be as detailed as the rest of the site. I just want it to be a general information section. I don't keep tabs on the modern guitars as much. Don't get me wrong though, I love 'em. I played a killer "Custom Authentic" LPC a while back that was very, very nice.
"1968 Les Paul Custom Reissue" ("True-Historic Series" -- Released 2015)
&nbsp &nbsp &nbsp This is some really great news for fans of maple capped LPC's! Initially released as Japan-only model for our rocking brothers and sisters across the Pacific, this model is now available here in the USA. Previously, there was no Historic Series option for a maple topped LPC, as the 50's RI's have a Mahogany cap. I can't tell you how exciting it is to see Gibson Custom take the time to spruce up this model. Edwin Wilson, head of Gibson Custom, confirms the model in the YouTube video below (fast forward to 5:30).
&nbsp &nbsp &nbsp Interested in one? Check with your Gibson dealer, or at online vendors. (Not a plug for Gibson or anything, just trying to point you in the right direction. :) ). List price in late 2015 is about $9,000 USD, but the standard "street" price is $6,700. I'd bet one could do better with a little haggling. One vendor's entire stock was right at the 9lb mark too, nice. :)
&nbsp &nbsp &nbsp "A Killer Black Beauty That's Ready to Rock!" -- "Built just as the Custom that re-emerged in '68, with long neck tenon, accurate neck profile, Alnico II humbuckers, and elegant 'Black Beauty' appointments." -- Gibson.com
&nbsp &nbsp &nbsp "A Period-Correct Rendition of a Custom That Returned with a Vengeance ---- The Custom was one of the first genuine single-cut Les Pauls to roar back into the lineup in the late '60s, and has been a popular and collectible evolution of the model ever since. The 1968 Les Paul Custom Reissue marries accurate specs and features such as a long neck tenon, full-size Alnico II humbuckers, and an authentic '68 neck profile with the elegant Custom appointments like pearl block markers on an ebony fingerboard, gold hardware, and period-correct multi-ply binding. Dressed in a hand wet-sanded nitro Ebony finish, it's the closest thing to bagging the original return of the "Black Beauty." " -- Gibson.com
&nbsp &nbsp &nbsp Gibson.com URL --->
http://www.gibson.com/Products/Electric-Guitars/2015/Custom/1968-Les-Paul-Custom-Reissue.aspx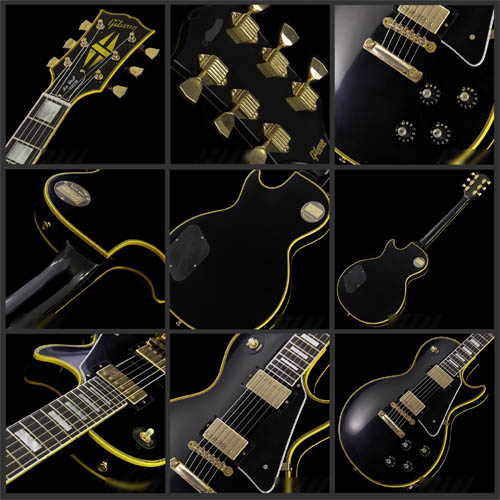 INFO FROM GIBSON.com:
Correct, Reissue "Waffle Back"
Super Kluson Tuners
D-Shaped Heel
Lightweight Tailpiece
Long Tenon Neck Joint (Correct for 1968-Early Summer 1969)
Knurled Switch Nut
New Repop Witch Hat Knobs - Gold Insert
Correct, Cavity Routes
Correct Neck Shape -- Profile named "1968 Les Paul Custom"
0.9 Inches @ Fret 1 --- 1.05 Inches @ Fret 12
New Top Carve
New, Special Pickups -- "68 Custom" Pickups -- Alnico II -- #42 Wire
"True-Historic" Spec -- Hide Glue Construction
and more!
NOTE: FAST FORWARD TO 5:30, thanks!
"Collector's Choice #10 - Tom Scholz 1968 Les Paul"
&nbsp &nbsp &nbsp "Collector's Choice #10 Tom Scholz 1968 Les Paul recreates this stripped-down and hotrodded '68 Goldtop just as it was used by Scholz, guitarist of the legendary rock band Boston, to create the band's greatest moments, notably on their debut album, Boston. As the first replica of an original vintage guitar outside of the '59-'60 burst, Gibson Custom couldn't have asked for a more compelling model." - Gibson
&nbsp &nbsp &nbsp This is a REALLY cool model for LSLP nerds. Finally, a proper effort by Gibson to reissue a 529262-era replica. Headstock pitch is even correct! The inlays are the new, 50's correct style which is wrong for this model, but that's forgiveable. They should be the USA production material with rounded corners. Obviously, Scholz modded the heck out of this, and Gibson has worked to replicate those features.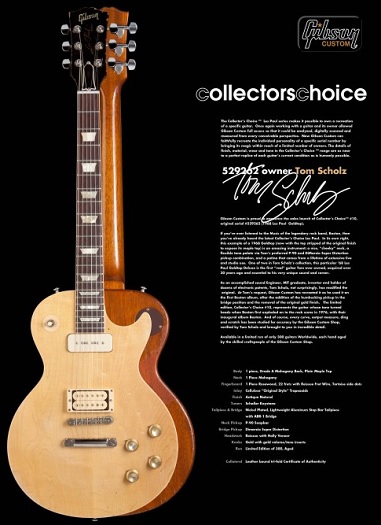 Solid 1pc construction, mahogany body & neck - LSLP Correct
Aged, dinged, nitrocellulose lacquered finish
Carved, plain maple top
Cream binding, thick in cutaway - LSLP Correct
Tortoise Side-Dots - LSLP Correct
P-90 Neck Pickup, DiMarzio Super Distortion Bridge Humbucker
D-Shaped Heel - LSLP Correct
"Original Style" Cellulose Trapezoid Inlays, Sharp Points - Incorrect LSLP
14 degree, headstock pitch - LSLP Correct
Long Tenon Neck Joint - LSLP Correct
Lightweight, Aluminum Stop-Bar - LSLP Correct
Schaller M6 tuners with 12:1 tuning ratio - "Scholz" Correct
High-End Custom Shop construction, modeled on Scholz's LSLP, serial 529262
$9,409 MSRP -- Ouch! The street price is much less though.

The Return of the "Super Kluson" (Waffleback) Tuner:
&nbsp &nbsp &nbsp Want to make your modern, '68 Reissue Les Paul Custom more accurate?
&nbsp &nbsp &nbsp WD Music (what seems to be Kluson's resale front) has this description of the Super Klusons: "This top of the line tuner is known as the Waffleback and has been absent from the market for 40 years. Kluson is proud to reintroduce this tuner, which was used on numerous high end Gibson Les Pauls, ES-355, Super 400, L5 and early Les Paul SG Customs."
&nbsp &nbsp &nbsp A thing to keep in mind if you are considering upgrading your '68 Reissue or restoring your original guitar: If you are converting from Grovers, you will potentially need "Conversion Bushings" to make your 3/8 holes work with the smaller push in bushings that Kluson's use. Kluson's use 11/32nd" holes standard. The critical issue is that the larger washers from Grovers may have left impressions in your finish which will be visible as circle-shaped dents around your new Super Kluson bushings. Even worse, my Early Reissue 1969 LPC has had Grovers on it since the early 1970s. The washers have become one with my headstock's finish, and if I were to remove them, my finish would come off as well. On a multiple thousand dollar guitar, that is not acceptable! So be VERY careful when restoring Super Klusons to original guitars that have had Grovers for a long period of time. On modern reissues, it is possible there may be light impressions in your headstock from your factory Grovers, so keep that in mind.
&nbsp &nbsp &nbsp They tend to retail for about $120 or so at retailers like WD Music (wdmusic.com) and Stewart-MacDonald (stewmac.com). They are available with plastic buttons for 50's Les Paul Custom accuracy and in full nickel to go with the 68 VOS style RI look. Here is a picture of the gold style correct for LSLPCs:
"1968 Les Paul Custom Flame Top"
&nbsp &nbsp &nbsp "With its distinctive style and long list of appointments, the 1968 Les Paul Custom has long been a favorite of players and collectors. Featuring the trademark split diamond headstock inlay and lavishly bound body, this Les Paul Custom version adds a carved, flame maple top. The guitar's '57 Classic humbuckers provide the smoothest, richest tone of any of the Gibson pickups while gold hardware adds a sumptuous glow under the stage lights."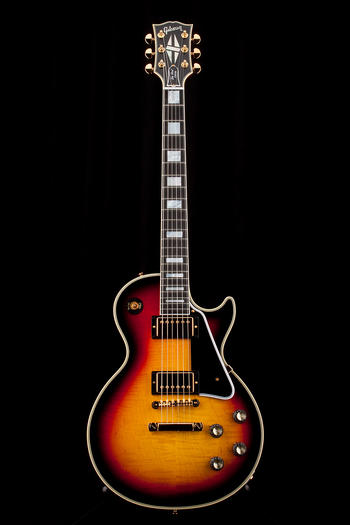 Highly figured maple top
Solid Mahogany Back
Multi-ply white/black binding on top & back
Gold hardware
ABR-1 bridge, stopbar tailpiece
1-piece mahogany neck w/long neck tenon
22-fret bound ebony fingerboard
Pearl block inlays
Rounded neck profile
24-3/4" scale length, 1 11/16" nut width
Kidney bean tuners
'57 Classic humbucking pickups
2 volume, 2 tone, 3-way selector switch
Includes Custom Shop case and certificate of authenticity
"Limited Run Les Paul Deluxe"
&nbsp &nbsp &nbsp "It's back: A limited production model with all the growl, power, and fury of the original '69 LP --- Once again this Les Paul Deluxe recreates the crunch and bite of the '69 original with vintage-style mini-humbucker pickups mounted on a gold top Les Paul body to give you the classic looks of the original with modern playability. It features a chambered mahogany back, set mahogany neck, maple top, '59 rounded neck profile, TonePros Kluson tuners, and a nitrocellulose lacquer finish." - Musician's Friend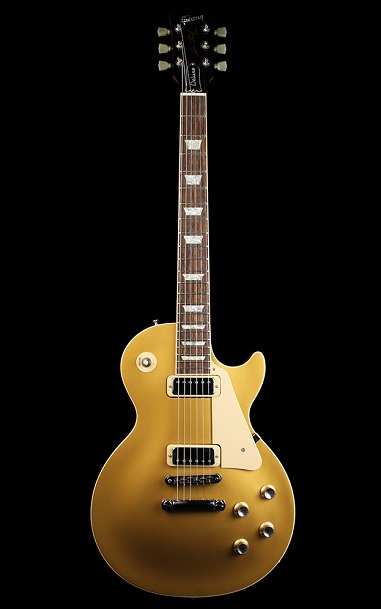 Chambered mahogany body
Nitrocellulose lacquered finish
Carved maple top
Cream binding
1959 rounded Les Paul mahogany neck
Dual mini-humbuckers
2 Volume, 2 Tone controls
3-way pickup toggle switch
Gold speed knobs
Tune-o-matic bridge
Stop tailpiece
Chrome-plated TonePros Kluson tuners
Neutrik locking output jack
"1968 Les Paul Custom VOS" (sometimes available w/gloss finish)
&nbsp &nbsp &nbsp Identical features to the Figured model, but in solid colors. 90% of them will be in black. Usually the other 10% are usually 'vintage white', which is a barely cream, white color. Similar to Randy Rhoads' 1974 LPC. It is tricky to find these in stock as Gibson just makes them in small batches and does not promote them on their website. Even trickier, you can find them in a gloss finish, which typically is an upcharge.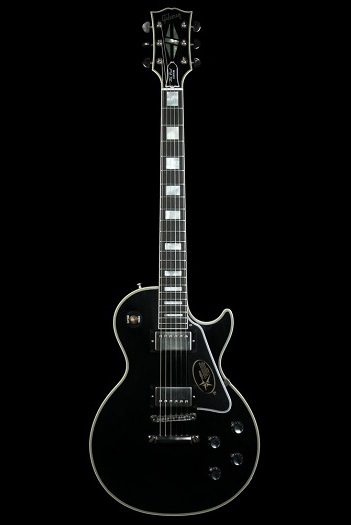 Solid Mahogany Back
Multi-ply white/black binding on top & back
Gold hardware
ABR-1 bridge, stopbar tailpiece
1-piece mahogany neck w/long neck tenon
22-fret bound ebony fingerboard
Pearl block inlays
Rounded neck profile
24-3/4" scale length, 1 11/16" nut width
Kidney bean tuners
'57 Classic humbucking pickups
2 volume, 2 tone, 3-way selector switch
Includes Custom Shop case and certificate of authenticity
DISCONTINUED MODELS:
'68 Custom Authentic:
&nbsp &nbsp &nbsp This model has unfortunately been discontinued. It featured a dulled black finish, dulled nickel hardware, a light tailpiece, ABR bridge, 1-pc construction, tall pickup rings, and a long neck tenon. It had a hefty neck with a full 17-degree tilt headstock. Briefly, its knobs were incorrect, the headstock pitch was incorrect, its truss rod cover was incorrect, etc, etc... It was a VERY high quality instrument built in the Custom Shop to the highest of Gibsons standards. It featured 57 Classic pickups originally and eventually changed to BB's. I think it was probably made from about 1998-2003 or so. Was probabaly the first Gibson "VOS" type finish, although I am not sure if it is the same process to dull the finish. The current VOS model is the successor.
Les Paul Deluxe / '69 Deluxe Reissue:
&nbsp &nbsp &nbsp Basically, there was a 69 Deluxe RI (a NON CUSTOM SHOP guitar) as a limited edition in the late 90s early 2000's. It was similar to the current limited production guitar with the exception that the 69 RI's had a solid body, not-chambered. There may be more differences, not really sure. No long tenon. No transitional tenon. It has the modern rocker joint and Nashville TOM bridge. No pancake body, no 3-pc neck. No volute. Small headstock. No lightweight tailpiece. Typical 90's neck. Mostly available in Black, Wine Red, and GT.