Featured Article:
Joe Bonamassa's 1968 Goldtop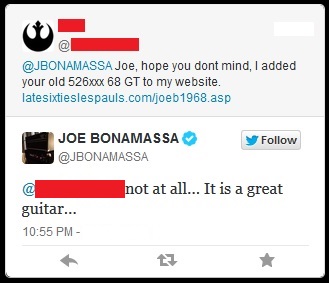 &nbsp &nbsp &nbsp Cool stuff, Joe Bonamassa used this 526xxx as his main Les Paul from 1998-2000. He traded it to Holy Grail guitars in Santa Monica, CA in 2011. It's a 1968 Les Paul Standard, bone stock. It was used on the song "A New Day Yesterday" on the album of the same name.
&nbsp &nbsp &nbsp These images are property of Holy Grail guitars and were posted publically for an ebay auction. Please respect their ownership and do not disturb the watermarks on these images. Thanks!