Featured Article:
Real or Not? Factory Humbuckered Standards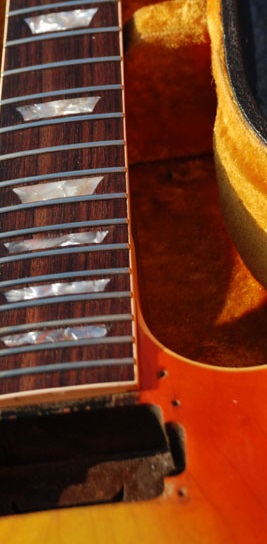 &nbsp &nbsp &nbsp A humbuckered Les Paul Standard from the factory? A SUNBURST, humbuckered Les Paul Standard from the factory? What the heck?
&nbsp &nbsp &nbsp Everyone wanted a Re-Issued Les Paul to be in Sunburst with humbuckers... except for Gibson. Hell, even Les himself wanted the Standard to be a Goldtop equipped with humbuckers (see Period Literature for the original blueprints). Out of the blue a while back, Brad from California emailed me with an interesting story: he claimed to own a confirmed, 1968 Les Paul Standard in a late 60's "Tangerine Burst". I have to admit that I was ready to dismiss Brad's claim until I saw the pictures of the pickup routes on his guitar. With a clear finish, it is impossible to hide evidence of a P-90 route when a guitar is modified for humbuckers. Brad's guitar lacks any evidence of such modifications. Candidate #1, could it be real?
&nbsp &nbsp &nbsp While waiting for more correspondence with Brad, I posted a teaser shot on a well known guitar forum. Lo and behold, a nice gentleman from Japan pointed me towards a darkburst 1968 Les Paul Std in his country that was also claimed to be an original humbucker guitar. This one had appeared in several Japanese magazines and a book. Candidate #2, could it also be real? ***** EDIT -- THIS GUITAR HAS NOW BEEN CONFIRMED AS A SPECIAL ORDER GUITAR FROM LATE OCTOBER 1968. THE FINISH CANNOT BE CONFIRMED AT THIS TIME, BUT THE HUMBUCKERS ARE!!!!
&nbsp &nbsp &nbsp Unbelievably, another user from the same forum reminded me that he had posted a few years previous about Jim Peterik, noted guitarist and songwriter. In that post, he mentioned a couple articles where Jim says he owns a special order '68 Standard Goldtop with factory humbuckers which he bought new. Candidate #3 sounds very promising!
&nbsp &nbsp &nbsp A fourth candidate? Yup, out of the blue I received an email in December of 2014 from Al in California. In it, he says he owns a 1968, darkback Goldtop with factory humbuckers. He says he has owned it since 1973 and has a letter from Gibson to prove the length of his ownership. Candidate #4 looks KILLER, could it be real?
&nbsp &nbsp &nbsp I have been studying these guitars for over ten years and have never heard of, nor even seen a viable candidate for a Les Paul Standard to have shipped with humbuckers. Then, in a period of a few weeks, FOUR guitars cross my path which have the potential to be something special.
PLEASE READ, VERY IMPORTANT:
&nbsp &nbsp &nbsp SO FAIR WARNING: Other than Jim's Goldtop and the Japanburst (routes only confirmed at this time), these guitars and stories are UNCONFIRMED for now. I have no reason to disbelieve any of the people whom have generously reached out to me, but this site is about confirmed FACTS. I have to make sure anyone reading this knows that I have not 100% verified these instruments, but I would not publish them without them being very plausible candidates. As I learn more, I will update this story with what I learn and maybe upload some additional pictures.
Candidate #1:
Brad from California's "Tangerine Burst"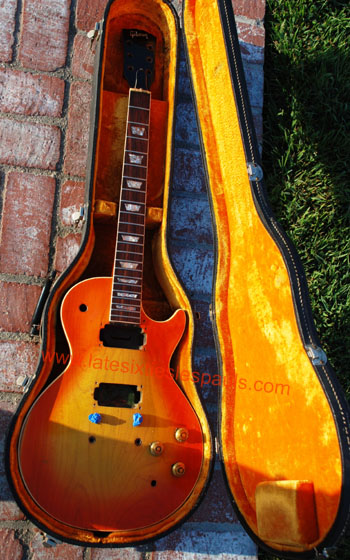 &nbsp &nbsp &nbsp This guitar found ME. Out of the blue a few years ago, Brad graciously emailed me offering pictures and information on it. Thoroughly distracted by life, I remembered the guitar and meant to get back to Brad, but I never did. Thankfully, he was persistent and tried again. I have reached out about the shipping log pics and for pictures of the back the guitar etc. Fingers crossed we will get them! The following are Brad's words:
"Hi Again
Its great to see you have updated your site which has helped me many times ...thank you!
I don't know if you remember me but I have probably the first 59 reissue via a custom order back in 68!
I have know[n] this guitar for over 20 years+ through a local repair shop over the years I got to know the owner of the guitar and asked the classic statement "If you ever want to sell it call me". Mind you every one who knew this LP even the owner and the repair shop thought this it was a 68 gold top that had been refinished and routed for p90s.
Well he called me after meeting me at a guitar show see picture of me holding it ; this was 6 years ago....
He needed cash and he liked my Historic 58 I had for possible trade.
So when it came time to deal I went to his place with Historic and cash in hand. I told him Id like to take a peak under the pickups check what they are and see the how bad the route is. To my surprise the route looked factory, like a standard 70's or 68/69 custom. I kinda freeked thinking this has not only been refinished but re-toped. I actullay stopped the deal and said I need to think about it. He was bummed cause he really wanted my Historic. I called Gibson the next day and gave them the serial number, the customer service guy said go back and get that LP! That is a custom order that was to be a sunburst with humbuckers. He said there are probably 1to10 that were ever made. There were more gold tops of course. In the mean time the seller really wanted my Historic and lowered his cash asking price plus trade. I went for it and glad I did.
I contacted Gibson again and included pictures and they sent back the shipping log copy (which they no longer do) and said great going they were real happy for me. As far as the finish you can see its totally late 60's tangerine finish as with their 335s and 175s at the time. (see example)
Any ways call me if you want to use my LP. It is a war baby, supposedly owned by the guitar player in 70's outfit "Growl" Mick Smalls, so it can be a little questionable with the replaced pickups which the repair shop kept when he switch out the originals for stupid S. Duncan's and added the black zinic to the cavities, ugh!!.
I have since restored it painstankingly by replacing some of the inlays with original old stock material (that's another story) also have added 60's Ttops that sound incredible and reissued double ring kulsons (it did have the typical added grovers) My cel phone XXX-XXX-XXXX.
I did meet and talked to Robb Lawrence and he to was interested and whished he could have put it in his second book 1968-2009,
Regards Brad"
Candidate #2:
The "Japanburst" - 518xxx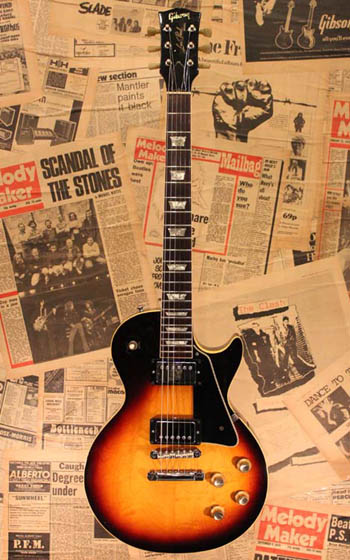 UPDATE ---> CONFIRMED: THIS GUITAR's ROUTES ARE FACTORY! This instrument has been confirmed as a "Special Order" instrument from an infallible source. It shipped in late October, 1968!!!
&nbsp &nbsp &nbsp This guitar was pointed out to me on an internet forum, and the information below was current from Guitartraders-Tokyo.com on 10.29.2014. I am thoroughly confused by this one. There is no evidence of sanding in the pickup cavities to remove gold paint. Candidate's 3 and 4 are darkback Goldtops with black plastic. This guitar would make sense to have left the factory in the same way, but its serial number seems to be much earlier than those. Also, its back finish is unlike the other two candidiates. Their "original" darkback finishes are applied in a way that matches the dozens of other claimed-to-be-original darkbacks I have seen (all standard P-90 examples). This guitar's back finish was applied differently and is almost cherry looking in a way. Also, the headstock has a couple suspiciously rounded edges which sometimes indicate a refin. The silk screen also appears too heavily applied. The damage to the finish on the back of the guitar is disproportionately high relative to the headstock and the front of the guitar which seems to have no checking. I COULD BE WRONG. I have not gone hands on as the author of the book in these images did and as the owners of this store have. It is plausible that this guitar is legitimate. As of 1.11.2015, the guitar is sold. It is a 518xxx guitar with 6832 pots.
FROM THE GUITARTRADERS-TOKYO WEBSITE (with a little bit of editing and spelling correction):
It was item 23659. Listed as "Gibson 1968y Les Paul Standard "Original Humbucker PU with Burst". "Original Humbucker Routing with Patent Number "PAF" Pick Ups & Sunburst Finish."
Here is the rest of description in Japanese:
1968年より、市場の要望によりリッシューされた"レス・ポール・スタンダード"
通常モデルは、56年スタイルの"P-90"ピックアップにゴールド・トップとなりますが、 こちらは、その68年に少量生産された オリジナルにて、当時のパテント・ナンバード・PAF・ピックアップが搭載され、サンバースト・フィニッシュが施された59年スタイルにて作られた、スーパー・レアな スタンダード・モデル!
この時期のギブソンのサンバースト・フィニッシュは、ESシリーズにて見られる"ダーク・サンバースト"が採用されており、それに準じたカラーにて全体がフィニッシュされています
勿論、ピックアップのルーティングもハムバッカー・サイズでルーティングされており、 ロング・テノンのネックジョイントが施されています
その他は通常の68年と同じスペックで、スモール・ヘッドのワンピースのマホガニーネックとボディバック、トップのメイプルはセンターシームの2ピースで、トップとバックの間にはメイプルの突き板を施されていない、50年代の仕様を受け継ぐ68年のみの仕様となっています
全体的にも大変状態の良いエクセレント・コンディションをキープ!
サウンドも倍音感豊かなグッド・トーンで、同じハムバッカーを搭載した68年レス・ポール・カスタムとも異る、50's・スタンダードを彷彿させる素晴らしいサウンドです
今回を逃せばニ度と入手する事は殆ど不可能と思われるレア・ピースです!
Pot Date / 137 6832
税抜き本体価格 ¥ ASK
☆15周年!"CELEBRATING" スペシャル☆ 驚異の実質年率 7% & 8 %!最長84回までOKな 低金利スペシャル・クレジットをご用意!
ヴィンテージ・ギターの下取り大歓迎致します! 勿論USEDもOK! 買い取り、委託販売も大募集中です! お気軽にお問い合わせ下さい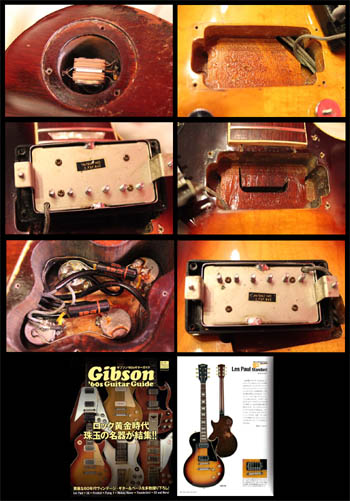 Candidate #3:
The "Guitar Gallery Goldtop" - Jim Peterik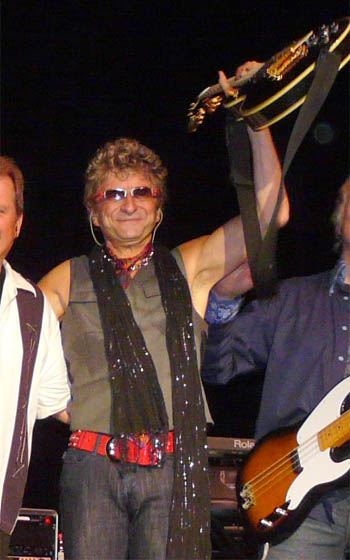 &nbsp &nbsp &nbsp I reached out to Jim's management and was generously offered the opportunity to ask Jim a few questions about the guitar back in December. I haven't heard back yet, but I will reach out again soon in hopes of getting a response.
&nbsp &nbsp &nbsp The following is an excerpt from Russell Hall of Gibson.com's article titled: "From "Vehicle" to "Eye of the Tiger": Jim Peterik Talks Guitars, Songwriting and His New Memoir" - 10.29.2014
&nbsp &nbsp &nbsp And you recorded [the Vehicle album] with your Les Paul Goldtop?
&nbsp &nbsp &nbsp Yes, it was the Les Paul Goldtop Standard that I got from Guitar Gallery in Chicago. There was a sort of "rebel" guy who worked there named Paul Staples. He said, "Jim, I see you're looking at that Goldtop with the P-90s. You know what? Wait a couple of weeks. I'm getting a special custom order that includes two Goldtops with humbuckers." So, two weeks later in came my guitar --- black surrounds around the humbuckers, black pick guard, the coolest guitar I had ever seen. I think I paid $425, including the case. That became my "Vehicle" guitar and my touring guitar --- my main instrument. I still have it today.
&nbsp &nbsp &nbsp I'm guessing you don't take it on the road?
&nbsp &nbsp &nbsp That's right, but I play it in the studio all the time. My son is a studio engineer. He's always asking, "Dad, can I borrow the '68?" I'm like, "Sure, go ahead."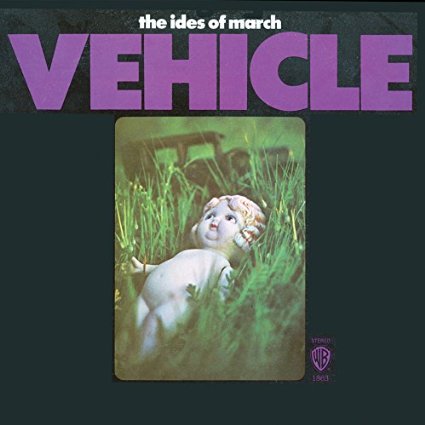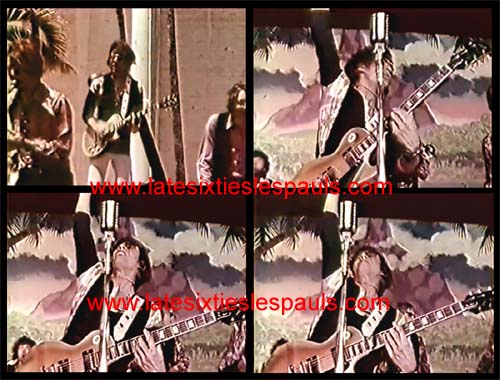 Candidate #4:
From Cali, The "Al Goldtop" - 542xxx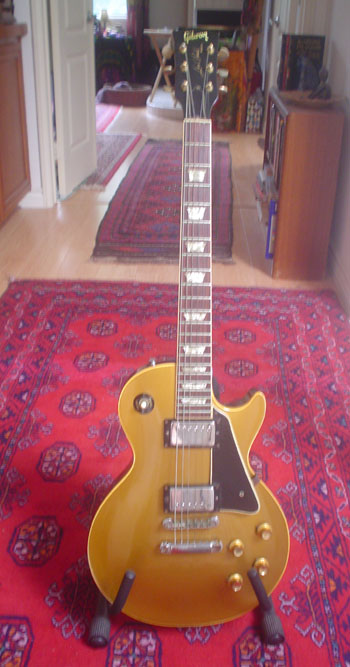 &nbsp &nbsp &nbsp Unfortunately, this guitar is not listed in the official Gibson shipping records. If confirmed, the guitar is so unusual that it must have been a special order, akin to Mr. Peterik's. In other words, there is no precedent for these, so who knows what the blank ledger entry means? It might mean absolutely nothing; it might mean a lot. The serial number falls into the big headstock range as well, but seems to exhibit a small headstock. It also has a 68 style cavity route which matches the small headstock. Maybe the guitar sat around a while before it shipped? Maybe it was an employee guitar (if those even exist)? My gut is very positive about this instrument though, and I want to thank Al for sharing it. The following text is from an email I received - 12.01.2014:
&nbsp &nbsp &nbsp "Hi I have a 1969 Gold Top Standard Full sized HB's that I've own since 1971, I also have a letter from Gibson stating when it was made. I would be happy to do a set of photos of the guitar to include a picture of the letter addressed to me from Gibson. The guitar is a one piece walnut finished body with a small head [EDIT: Al is referring to the "darkback" color his guitar and claims it is original.] , all original except the grover heads. Let me know if you want me to share more pictures, I'll put something nice together for the site. Happy Holidays -- Thanks, AL :) "