Featured Article:
Proven: Original Factory Blueprints Show Goldtop Humbuckers
&nbsp &nbsp &nbsp Rewind back to 1968. Imagine you have been wanting a Les Paul, but they are no longer made. Miraculously, you hear that Gibson is reintroducing both models: The Les Paul Custom and the Les Paul Standard. You can't wait to pick up a humbuckered, Standard model like most of your heros play.... And Gibson releases a P-90 guitar. :) Would leave a bad taste in your mouth, right?* Well I have always felt that this bad taste has contributed to why the collector's market has generally stuck their noses up at LSLP's. So, shock of all shocks, I found proof that Gibson intended to release both models with humbuckers in an estate sale listing for Les' property. The icing on the cake: a small notation on one page stating that LES HIMSELF REQUSTED HUMBUCKERS. How cool is that?
&nbsp &nbsp &nbsp This is a companion section to the Les Paul Custom blueprints in the Period Literature section. ( CLICK HERE TO READ ) The plans are current to April 1968, model 5105. Non-production features are a blank truss rod cover, gold inserts on the reflector knobs, humbuckers, and sharp cornered inlays (ala 50's). The line about humbuckers is in the Specifications image. It reads, "HUM-BUCKING PICKUPS W/CREAM COLORED PLASTIC UNIT COVERS & MOUNTING RINGS PER LES PAUL'S REQUEST." Some Gibson Grande Console steel guitars had cream plastic pickup covers, so maybe that is what Les was after. We'll never know now that he has passed away. See the cropped image below...

&nbsp &nbsp &nbsp Random Note: I wish I had seen this lot before the auction ended as I would have bid on it. I tried contacting the new buyer after the sale but they were not interested in selling one of their copies. If the owner happens to read this, I may still be interested.
* = Disclaimer: I LOVE P-90's too.
PLEASE READ, VERY IMPORTANT:
&nbsp &nbsp &nbsp Julien's Auctions successfully and professionally handled the estate sale for Mr. Paul. In doing so, they publically posted these images on their site. I have heavily watermarked them to ensure their ownership is permanently associated with these images. Please respect Julien's Auctions' property and do not attempt to remove the watermarks. Serial numbers will stay private. The images are posted here are not for profit and for informational purposes only. However, if anyone from Julien's Auctions would like them removed, I will do so immediately and without hesitation.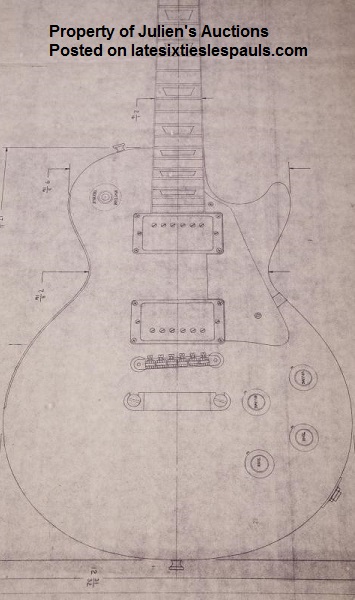 OWNER'S INFO:
Julien's Auctions
9665 Wilshire Boulevard
Suite 150
Beverly Hills, CA 90210
http://www.juliensauctions.com/
AUCTION INFO:
Julien's Auction Description: "An identical pair of full scale schematic blue prints with full specifications titled, "Les Paul standard 68 model" and dated April 8, 1968."
30" x 49.5"
Lot 416 of 745
Lot closed - Winning bid:$5,312.50